HOW TO RIDE
THREE EASY STEPS
1. Use the VeoRide app to find an available bike or scooter.
2. Scan the QR code or enter the vehicle's ID number to unlock it.
3. Park in a designated area and slide the lock closed to end your trip.
SAFETY TIPS
HOW TO ride LIKE A PRO
Follow these tips to ride like a champion VeoRider.
Follow the Law
Obey all traffic laws at all times.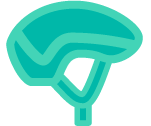 Use Headgear
Protect your head by wearing a helmet.
Check your ride
Check the bike or scooter before riding. Use the app to request maintenance.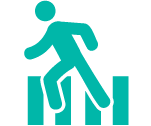 Go With the Flow
Follow traffic and stay in your lane to prevent accidents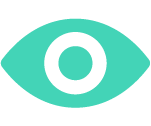 Stay Alert
Pay attention to your surroundings.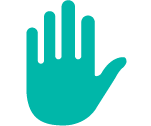 Use Gestures
Use hand signals to let others know where you are going. Here are a few:
PARKING TIPS
WHERE TO PARK
Always park responsibly. Be a good neighbor; park bikes and scooters in a safe place, out of the way of traffic. This ensures that everyone will have a chance to travel safely and that the shared fleet will be in its optimal condition for all VeoRiders.

Yes Please
BIKE RACK
A bike rack is the safest place to park. If the rack is full, you can park right next to it.
FURNITURE ZONE
The furniture zone of the sidewalk (where benches, lamps, & the tree lines are) is a safe and visible place to park.
DESIGNATED AREAS
Always check the app to find designated parking areas.

Please Don't
IN TRAFFIC
Any place where a bike or scooter can fall or otherwise interrupt pedestrian or car traffic is extremely dangerous.
IN THE WAY
Don't block crosswalks, sidewalk, fire hydrants, outdoor furniture, driveways or doorways.
PRIVATE PROPERTY
Please don't be rude by parking on private property.