Veo is excited to announce a partnership with The District of Columbia to bring 720 Cosmo-E class 2 e-bikes and 720 Astro standing scooters to the city. We began deploying our mixed fleet of vehicles today, just in time for President's Day weekend. Our deployment in the District opens up new connections to Alexandria, VA and Arlington, VA, where we have operated since fall 2022.
In the District's recent announcement of the news, DDOT Director Everett Lott said, "We are thrilled to see how popular this program is in the District and the great impact dockless scooters and bikes are having toward Mayor Bowser's sustainability goals. With VeoRide successfully completing DDOT's stringent permitting process, it will now help meet the ever-increasing demand for more devices and greater accessibility, something residents can now follow online, in real-time."
Increasing Access with Throttle-Assist E-bikes
Our launch brings a new vehicle type to the District's program: the Cosmo-E, a class 2 throttle-assist e-bike. The throttle allows riders to get where they need to go if they are unable to pedal, need support traveling up hills, or want a boost to get up to speed from a stopped position. Veo offers the shared micromobility industry's only throttle-assist e-bike.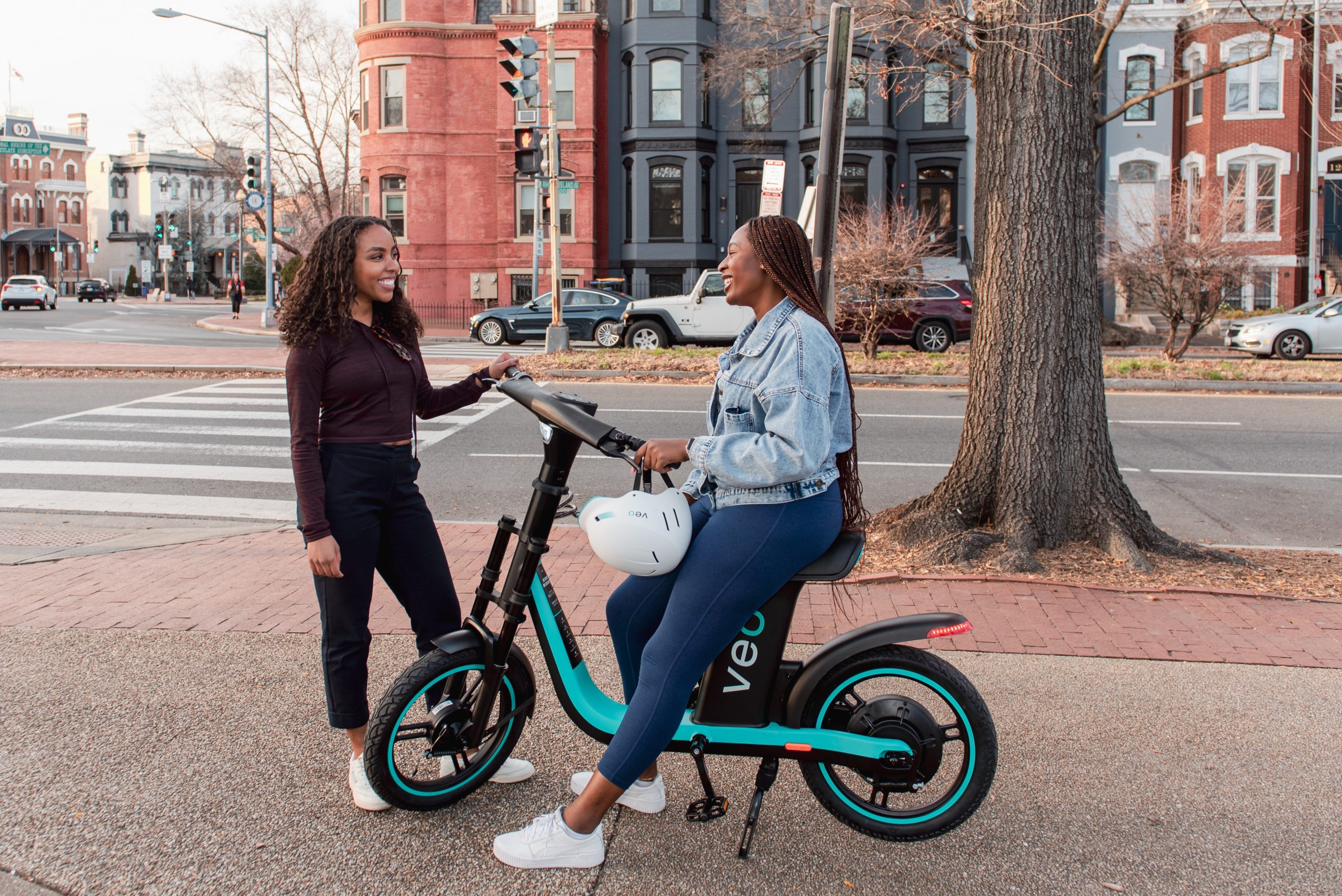 "We are honored to partner with the District of Columbia to expand sustainable transportation options with our most accessible e-bike yet," said Candice Xie, Veo's co-founder and CEO. "If we want to accelerate adoption of shared scooters and bikes, we need to follow the data. Veo's throttle-assist e-bike receives four times as many rides per day as our pedal-assist e-bike. When we deploy vehicles that are in demand, more people will ride and cities can reach their clean transportation goals faster."
The Importance of Mixed Fleets
Veo's Cosmo-E and Astro will contribute to the District's mixed fleet of micromobility options. Mixed fleets aim to offer something for everyone, from the parent who prefers a throttle-assist e-bike to make it home in time for dinner, to the young professional who wants to get to work on a standing scooter. Veo user research confirms the importance of mixed fleets: Riders between the ages of 18-25 prefer Veo's stand-up Astro scooter, while riders aged 26+ prefer Veo's seated Cosmo vehicles. Cosmo vehicles are also favored for longer trips, with riders traveling about one mile longer on Cosmos than stand-up scooters.
How To Ride
📱 Locate a ride: Riders aged 18+ can locate vehicles across the District using the free VeoRide app in the App Store or Google Play.
🔓 Unlock and go: Using the VeoRide app, riders scan a QR code and pay $1 to unlock the vehicle. Riders then pay a $0.39 per-minute rate for the duration of their trip.
📸 End your ride: Upon completion of the ride, riders park their vehicle in designated parking locations. To end a ride, riders must lock their vehicle to a bike rack or sign post using the Cosmo-E and Astro's integrated cable lock and take a photo within the app to confirm proper parking.
Redeem a $10 Promo
District riders can get $10 in free credit with the promo code DCGO12 through March 18. Riders with low incomes can apply for the Veo Access Program to receive a discounted rate.