Veo has officially launched in Minneapolis, Minnesota. The fleet of 500 Astro 4 stand-up scooters will enhance neighborhood connectivity, expand travel options, and reduce transportation-related greenhouse gas emissions.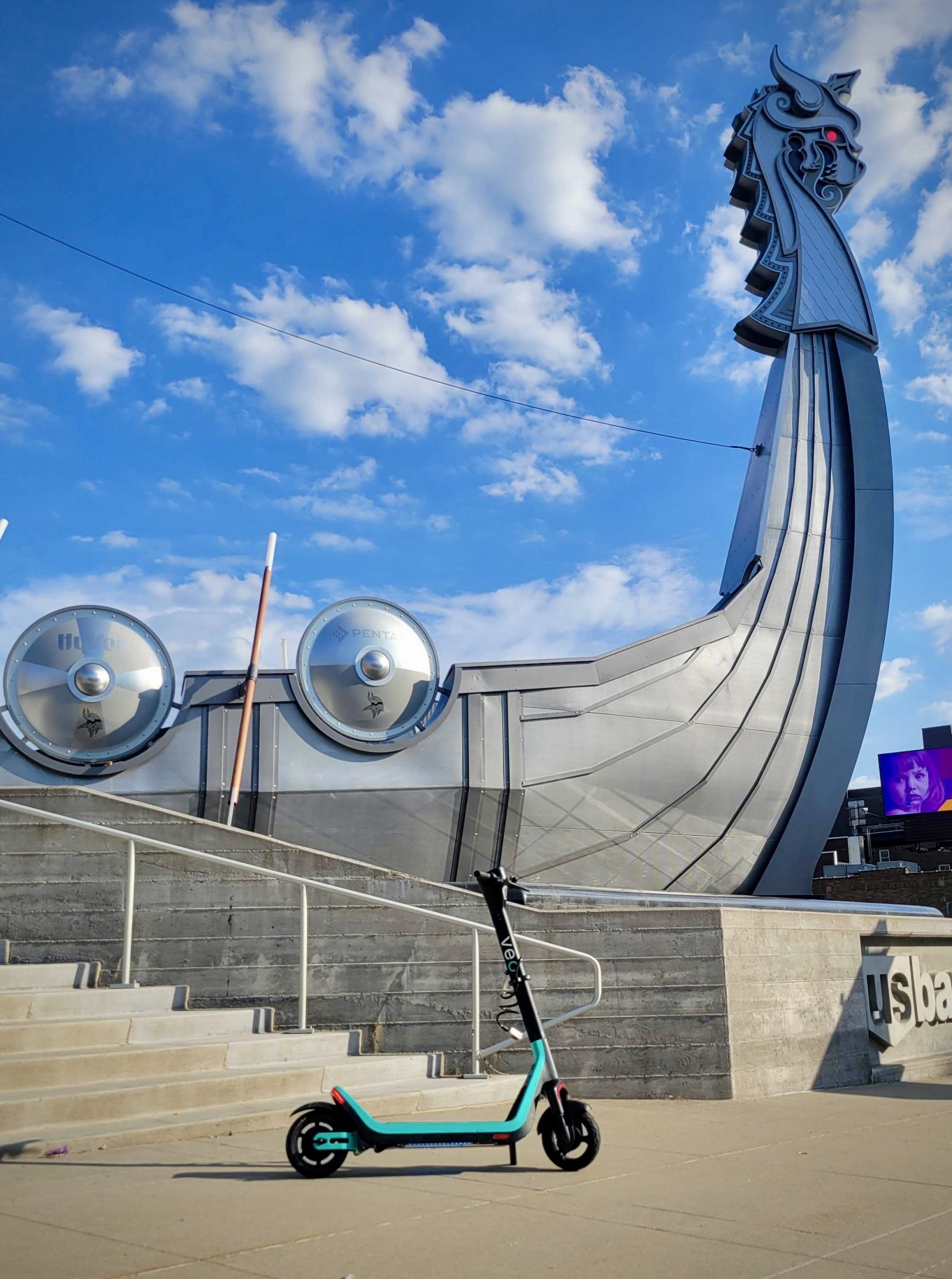 Minneapolis has been a long-time champion of clean transportation since it launched the first public bikeshare system in the U.S. in 2010. Since then, the city has embraced micromobility as a clean and affordable transportation option for residents and visitors.
The Astro 4 stand-up scooter is equipped with front and rear suspension for smoother riding, an active break light system, bright LED lighting to help riders see and be seen, and audible "Veo Voice" notifications to help riders navigate around geofenced zones.
How to Ride
• Using the Veo app, riders 18 years of age or older scan a QR code to unlock the vehicle. The cost to unlock is $1 and the ride costs $0.39 per minute. Scooters cannot be ridden on sidewalks and must be locked at the end of the trip.
• To end a trip, the Veo app helps users locate an approved parking area. Riders must secure the vehicle to a public bike rack, a parking meter hitch, or a municipal sign (except stop signs and transit signs) using each vehicle's integrated lock. Riders must take an "end of ride" photo of the properly parked scooter.
• Recommended parking zones, as well as no ride/no parking zones, are highlighted in the Veo app.
Veo Programs
• To celebrate the launch in Minneapolis, Veo is offering a $5 credit that can be redeemed on the app using the code: RIDEMPLS
• The

Veo Access Plan

is available to eligible Minneapolis residents who receive federal, state, or local assistance, and UM students who are FAFSA eligible. The plan, which has a monthly fee of $5, waives the unlock fee for riders and provides one free 30-minute ride per day. Additional rides are $.20/minute. No unlock fees ever.
"The addition of a Veo scooter to Minneapolis' micromobility fleet exemplifies the city's commitment to clean transportation as stated in its Transportation Action Plan," said Candice Xie, CEO of Veo. "We look forward to working closely with the City to bring new technology to the market to meet its goals of advancing equity, addressing climate change, and supporting public health through improved air quality."
Learn more about riding scooters in the City of Minneapolis: https://www.minneapolismn.gov/getting-around/scooters/